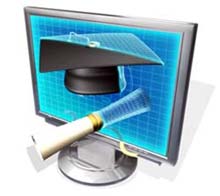 For some students, eLearning is engaging and motivational. These students are successful because the eLearning format suits their preferred learning style and offers many challenges and rewards.
However, our fully asynchronous eLearning program may not be for everyone.
Please complete the survey to see if eLearning is right for you
Top Traits of Many Successful eLearners
There is no "ideal" candidate for eLearning courses, or any course for that matter; however, you are more likely to succeed in eLearning courses if:
You work well independently
You are comfortable navigating the internet
You are organized and manage your time well
You are more likely to succeed in an eLearning course if you are:
mature (i.e., you understand the importance of earning an OSSD)
comfortable with reading and writing independently
an effective communicator and creative problem solver
interested in the subject area you are studying
In addition, you are more likely to succeed in an eLearning course if you have a history of:
submitting course work on time;
completing homework independently; and
asking for help before small issues become big issues.
And finally, before applying for an eLearning course, you should assess your ability to:
set and stay focused on goals;
break-up large tasks into their component parts; and,
create a schedule to complete tasks and adhere to the timelines.
If you have a history of inconsistent attendance or have failed multiple courses in regular day-school, you are strongly encouraged to take advantage of the programs and supports available at your home school (e.g., alternative education, credit recovery, tutorial, peer mentorship programs) until you develop the strategies and skills to be able to succeed in a fully asynchronous virtual classroom environment.