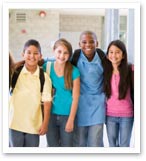 The Individual Education Plan (IEP) is a written plan describing the special education program and/or services required by a particular student, based on a thorough assessment of the student's strengths and needs.  Under Regulation 181/98, the principal is responsible for ensuring that an Individual Education Plan (IEP) is developed for exceptional pupils.  Planning a student's educational program is best accomplished through the combined efforts of, and close communication among, the student, the student's parents, the school, the community, and other professionals involved with the student.  The Individual Education Plan (IEP) provides an opportunity for all those involved with the student to work together to provide a program that will foster achievement and success.
In September 2000, the Ministry of Education released the policy document Individual Education Plans:  Standards for Development, Program Planning, and Implementation (referred to as the Individual Education Plan (IEP) Standards document).  The purpose of the standards was to improve the consistency and quality of program planning for students who are receiving special education programs and services.  The standards are also intended to help improve communication with parents about how their child will progress through the Ontario curriculum and how that progress will be monitored.  In September 2002, the Ministry provided school boards with a resource guide to support the implementation of the standard. (MOE, IEP Resource Guide, 2004)
The York Catholic District School Board has developed a web-based electronic Individual Education Plan (IEP) template to ensure compliance with Ministry standards.  In addition, The Student Service Team undertakes annual Individual Education Plan (IEP) Collaborative Reviews to support school staff with the development of Individual Education Plan (IEPs).
Resources