Serving Children: An Introduction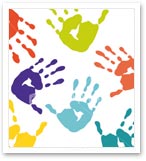 The York Catholic District School Board seeks to help all children reach their full potential, regardless of how unique or special their needs may be. Our schools recognize the differences in children, and adapt programs to meet their needs. Some children are exceptional and may require special programs and services. The Board will make every effort to provide such service in the pupils' home schools. Where this is not possible transportation is provided to other schools and centres where the necessary programs and services are available.
What is Special Education?
Special Education refers to those educational programs and services based on and adapted by continuous assessment and evaluation which meet the needs of exceptional pupils. Special Education involves the special application of programs used for all pupils. However, in Special Education the speed or manner of delivery of the service, the placement or setting, teaching style and special supports and other variables, tailor these general learning programs to the needs of a specific exceptional pupil.
Role of the Parent
Parents are an integral part of the process throughout the stages of delivery of Special Education Programs and Services. Parents are invited to meet with the Special Education teacher to discuss the Individual Education Plan that will be individually formulated for their child. This plan identifies program goals and objectives. Parents are invited to participate in Identification and Placement meetings, and in the Review of Placement meeting which is held at least once a year. Parental input is necessary at each stage to improve student learning.