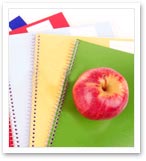 In accordance with Regulation 306, each school board is required to prepare and approve a report on the special education programs and special education services provided by the Board, and to submit it to the ministry. Each board is required to maintain a special education plan, to review it annually, to amend it from time to time to meet the current needs of its exceptional students, and to submit any amendment(s) to the Minister for review.
One of the purposes of a school board's special education plan is to inform the Ministry of Education and the public about special education programs and services that are provided by the board in accordance with legislation and ministry policy on special education.
The YCDSB Special Education Plan is in compliance with the Ministry of Education's Standards for School Board's Special Education Plans.  The plan is developed and reviewed by the Board's Special Education Advisory Committee (SEAC) and takes into consideration issues and feedback from members of the community such as parents, members of school councils, community organizations, and students.  Public Consultation is an ongoing process.  We encourage you to review the plan and submit your comments to SEAC or the Superintendent of Exceptional Learners and Safe Schools.
(Excerpt from MOE Standards for School Board's Special Education Plans)
Download the Special Education Plan
Related Links